A list of small actions and major events which challenged the state of Australian society and pointed to better ways forward.  
Note: This is a 'live' list which is continually being added to.
January
1 January 1981, Australia: A total ban on the transportation of uranium and related mining equipment is placed by the Australian Railways Union.
1 January, 1990, Melbourne: Following a series of stop work actions, including refusing to collect fares, Victorian public transport workers saw in the new year by occupying Brunswick, Essendon, Kew, North Fitzroy, Preston and South Melbourne tram depots and running the tram system themselves on January 1st 1990. This shift to workers control was undertaken in the context of plans by the Victorian ALP government to get rid of conductors, train station staff and their services to the public. Authorities cut off power to the system on the evening of January 1st and locked out the workforce with the result than no trams ran for 33 days. During this period hundreds of disused trams were parked in the city and a grassroots campaign undertaken to support workers and save their jobs. Although the compromise agreement that ended the dispute pleased few, conductors remained a Melbourne fixture until a new round of attacks by the conservative Kennett government saw the last of them retrenched in 1998.
For more:
Melbourne Tram Dispute and Lockout, January – February 1990 by Takver
Anarcho Syndicalism in Practice: Melbourne Tram Dispute and Lockout, January-Feburary 1990
2 January 1934, Adelaide: A 10-week "beer strike", or boycott of local hotels, in the Flinders Ranges' town of Quorn comes to an end after publicans agree to lower their prices.
3 January 1989, Perth: On this day in 1989 members of Perth's Aboriginal community, along with non-Aboriginal supporters, set up a protest camp at Gooninup. Noongar community members had been prevented from using this culturally significant site for more than a century and a half. Located next to Kings Park on the Swan River foreshore, the area had been used by the Swan Brewery company from 1879 to 1978 after which the factory had become derelict. Demanding the area be turned into a park, and having lobbied and taken legal action for more than a decade, community members were dismayed at the West Australian ALP's decision in 1988 to redevelop the site for buildings. The Aboriginal led protest camp would go on to majorly delay work via occupations, direct action, further legal challenges and union support in the form of work bans. To learn more about this campaign read an account by Nick Everett here.
6 January 1925, Sydney: ALP leaders lockout journalists at the Labor Daily for refusing to censor the word "scab".
8 January 1992, Ballina: In a protest against sewage dumping environmentalists launch the Big Poo to rival the local Big Prawn statue.
9 January 2009, Sydney: Aboriginal activists stage a march from Sydney to Canberra demanding an end to the Northern Territory Intervention.
11 January 1951, Sydney: 270 female process workers strike at 3 factories after their employers attempt to lower their wages to less than 90% of that paid to men.
14 January 1982, Melbourne: First Nations activists opposed to the building of an aluminium smelter at Portland by Alcoa disrupt a 200-metre race being held as part of an international athletics event sponsored by the company. Dashing onto the Olympic Park track the Land Rights activists unfurl a red, black and gold banner reading "Alcoa=Unemployment" before escaping down Punt Road. For more about the First Nations' activism and history visit First Nations Resources. 

20 January 1933, Melbourne: The economic depression of the 1930s saw thousands of Australians thrown out of their homes and into the streets. These actions, however, did not go unopposed. Across Australia, hundreds of pickets, occupations and protests were organised to disrupt and prevent evictions and auctions and demand support in the form of housing and better welfare payments. On this date in 1933, a Member of Victoria's Legislative Council Albert Zwar had his own home picketed by unemployed activists after he evicted a destitute family in Preston from a property which had been described as a "ramshackle hovel" lacking basic utilities. For more about housing activism and direct action during this period check out the Lock Out The Landlords pamphlet and history walk.   
22 January 1980, Melbourne: After years of trying to get Ansett airlines to take her on as a trainee pilot Deborah Wardley fights the company through the Equal Opportunity Commission and eventually the High Court before the company finally caves in, eventually allowing her to take her first commercial flight on this day in 1980.
23 January 2002, South Australia: Following concerted lobbying by anti-nuclear campaigners and Aboriginal communities Pangea Resources pulls out of plans to build a waste dump in Australia.
24 January 2001, Melbourne: Refugee supporters occupy the roof of the Maribyrnong Detention Centre.
30 January 1972, Melbourne: Aboriginal activists daub Land Rights slogans on Captain Cook's cottage tourist site.
February
1 February 2015, Melbourne: Refugee activists interrupt the Australian Open men's final and invade the court, calling for the closure of the Manus Island detention centre.
Feb 2, 1912, Brisbane: Black Friday, Brisbane's city-wide general strike, kicked off by the sacking of 480 tramway workers for wearing union badges 13 days earlier, peaked on February 2nd 1912 in what became known as 'Black Friday.' On this day up to 15 000 demonstrators gathered in defiance of state government bans on protest action. Following a general shut down of industry, numerous demonstrations, raids on elite restaurants, and the regular picketing of shops and businesses that refused to recognise the call to stop work, the conservative state government had panicked. It hastily swore in 3000 volunteer 'special' constables, including soldiers who appeared in uniform, and issued bayonets to police. In the face of regular attacks the strike spread across Queensland with members of 43 unions and their supporters rallying daily.
When crowds gathered in Market Square on February 2nd for what was intended as a peaceful show of strength they found themselves blocked by thousands of police, some parading with rifles. Police Commissioner Cahill, who rode about screaming, "Give it to them lads! Into them!", ordered them to tear into the protesters, badly injuring dozens and possibly killing two. Terrorised and unarmed, the crowd mostly dispersed, but police continued to hunt down stray protesters for the next hour, beating any they could find. Cornered, a group of female marchers drew their hatpins to ward off charging horses. During this unequal battle, leading feminist socialist Emma Miller toppled Cahill from his mount, leaving him with a permanent injury.
Failing to have properly organised a defence effort and faced with the deployment of further specials, including Boer War veterans, the leadership of the Strike Committee proved unwilling to take advantage of widespread anger and avoided further mobilisations. Although the dispute slowly wound down over the following month rank-and-file strikers continued to picket businesses and shut down the use of trams.
3 February 1979, Wagerup: Members of the West Australian Campaign to Save Native Forests occupied the site of a proposed smelter on Saturday, February 3rd 1979 in order to prevent the destruction of old-growth forests through aluminium mining. Having engaged in nonviolence training with visiting American Quakers the previous year, and held further workshops since, 16 people took part in the initial trespass action and occupation with another 300 rallying in support. 12 were arrested two days later, but the charges were later dismissed. With increased public interest emerging from this landmark event a second and larger occupation was held in May, which included the blockade pictured. More arrests ensued, but authorities lacked a legal basis to prosecute anyone. They soon responded by introducing new penalties for obstructing work carried out under agreement with the West Australian government which included fines of up to $5000 or 12 months imprisonment. Faced with this, activists shifted back to more conventional activities, but their action would later feed into non-violent approaches taken during the Franklin Dam blockade and elsewhere around Australia. Here is more information on Non Violent Direct Action.
4 February 1939, NSW: After Indigenous activist Jack Patten is arrested and removed from Cumeragunja Mission as part of attempts to end agitation around poor living conditions, up to 200 residents walk off the station in protest, many never to return.
5 February 1982, Sydney: More than 1000 people protest a recent raid on a gay bar singing "We don't want to get molested, we don't want to get contested, we don't want to get arrested, we just want our rights" to the tune of 'We Wish You a Merry Xmas."
6 February 1902, WA: Drinkers in the town of Mulline in the Goldfields-Esperance region who have been boycotting local pubs for a month over exorbitant prices receive relief in the form of a barrel of beer sent by supporters in nearby Menzies.
7 February 1972, Sydney: Black Power activists begin a free breakfast service for Indigenous children in Newtown.
9 February 1990, Melbourne: Anti-apartheid activists picket BHP over its support for the South African regime. Read Lessons that can be learnt from dockworkers who helped bring apartheid to its knees.
10 February 1925, Adelaide: The Trades and Labor Council declares a boycott on IXL jam in support of 500 striking female factory hands.

12 February 1965, NSW: Indigenous activists and supporters from Student Action For Aborigines Organisation (SAFA) began a two week 'Freedom Ride' around NSW to protest against racial discrimination on Februaryruary 12th 1965. As part of their journey they carried out surveys of Aboriginal living conditions in rural towns and held protests against the exclusion of Aboriginal ex-servicemen from the Walgett Returned Services League and Aboriginal children from swimming pools in Kempsey and Moree. Publicity surrounding the journey, and the issues being highlighting, was ramped up after police and white locals confronted protesters in Moree and an unidentified driver rammed the bus outside Walgett. Aboriginal activist Charles Perkins and others involved in the trip would continue their involvement in anti-racist and land rights activism for decades to come. Learn more about the Freedom Rides.
14 Feb 1951, Sydney: On Valentines Day 1951 53 peace activists were arrested during a demonstration outside the US consulate in Sydney. Their protest came during a visit to Australia by cold-war warrior and then US State Department adviser John Foster Dulles. The demonstra­tors' primary objection was to highlight the looming rearmament of Japan and Prime Minister Menzies declaration that the Federal government would crack down on waterfront and other unions under the pretext of putting Australia on a war footing ahead of the possible expansion of the Korean war.
14 February 2003: 100 000s of people join peace rallies across the country opposing Australian involvement in the invasion of Iraq.

17 February 2015, NSW: Pro-choice advocates began 40 days of fun-filled counter-rallies on February 17 2015 against anti-abortionists who were harassing clinics and clients for the same length of time. At the end of the protest marathon, the wittiest signs and banners were honoured. Many of those involved went on to play a role in the successful campaign to decriminalize abortion in NSW in 2019.
18 February 1951, Newcastle: 330 female members of the Federated Iron Workers' Association begin a strike, eventually winning equal pay with men after 7 weeks.
18 Feb 1869, Fremantle:  Irish rebel's escape from Fremantle – On Monday, February 18th 1869 convict John Boyle O'Reilly escaped the penal colony of Western Australia. Sentenced to death in 1866 for joining the British military in order to sow dissent amongst the ranks, the Irish Republican's sentence was commuted to 20 years penal servitude. Arriving in Fremantle in 1868 his exile lasted little more than a year as with the aid of settlers he escaped aboard the American whaler Gazelle. Eventually settling in the US he resumed his journalistic and po­litical activities and played a major role in organising the rescue of six other Fenian prisoners from Fremantle in 1876.
Sunday 21 Feb 1972, NSW: Muli Muli rent strike – On February 21st 1972 a Githabul family were evicted from their Housing Commission home at Muli Muli near Woodnebong. Following the eviction, six children were taken away by state welfare officials. In response, a community meeting immediately resolved to go on rent strike until the family were reunited and restored to their home. With pressure coming from other parts of the state, including the Sydney protest pictured here, a supposedly anonymous donor quickly surfaced to pay the back rent. After the Housing Commission refused to assist with the return of the family's furniture the rent strike continued on into March.
22 February 1907, Fremantle: 40 prisoners protest the use of flogging as a punishment by refusing to perform any work.
25 February 1982, Canberra: Members of the Sheltered Workshops Employees Association and other disabled workers rally outside Parliament demanding improved wages and the right to earn as much as other pensioners.
26 February 1986, Tasmania: Anti-logging actions at Farmhouse Creek and the Lemonthyme see bulldozers stopped and a 16-day tree-sit begun.
27 February 1937, NSW: The owners of the North Wallarah mine near Port Macquarie give in within 24 hours to striking workers demands after the men occupy and barricade the pit and up to 250 women and children picket the company manager's home.
March
1 March 1993, Victoria: 100 000s strike and rally against attacks on unions as well as privatization and austerity measures introduced by the Kennett government.
4 March 1804, Castle Hill: Convicts launch a revolt in they gather hundreds to march on Parramatta, where they are defeated at Vinegar Hill by the better-armed authorities, with the intention of freeing the entire colony and allowing those wish to join the rebellion in Ireland to sail home.
6 March 1974, Canberra: A demonstration calling for Aboriginal and Torres Islander land rights is held outside Parliament House during a visit by the Queen.
7 March 2001, Sydney: Union action at the Regent Hotel forces its owners to pay housekeepers on working visas the same wages as Australian citizens.
10 March 1928, Perth: Nyungar activists visit the Premier to demand freedom of movement for Indigenous Australians.
11 March 2003, Byron Bay: 1000 women protest the looming invasion of Iraq by spelling out "No War" with their naked bodies.
12 March 2006, Melbourne: Black GST (Genocide, Sovereignty and Treaty) members and supporters launch the Stolenwealth Games protests on March 12, 2006, by setting up Camp Sovereignty in Kings Domain. Situated a few hundred metres from Government House this serves as a base for land rights protests during the Commonwealth Games. For over a fortnight hundreds of protesters engage in dialogue with visitors and tourists and hold a series of rallies and actions around the city. Following this a ceremonial fire, originally lit from the Australian Aboriginal Tent Embassy's sacred flame to launch the event is maintained for 60 days, incurring pressure from the city council and authorities until police move in and forcefully evict the camp on May 10. Read an interview with Uncle Kevin Buzzacott's about his involvement in this protest and others for land rights and protection of country.
March 17 1948, Brisbane: The St. Patrick's Day Massacre sees police, under the direction of the state ALP government, beat railway strikers and their supporters, hospitalising Communist Member of Parliament Fred Paterson.
21 March 1996, Perth: As part of industrial action, bus drivers refuse to collect fares.

March 23, 1998, Northern Territory: Following decades of opposition to uranium mining the Mirrar people call on supporters from around Australia to take part in blockading construction of the Jabiluka mine on their lands from 23 March 1998 onwards. Over a period of eight months, thousands take part and around 600 people are arrested for disrupting work whilst protests and actions take place around the rest of country, including bank boycotts, high-school walk-outs, graffiti runs and the shutting down of miner North Ltd's Melbourne headquarters for days. Continued resistance by the Mirrar prevents the mine from opening and the project is cancelled five years later. Listen to a podcast from 3CR in which Mirrar traditional owners discuss the campaign.
25 March 1928, Sydney: International Women's Day grew out of socialist feminist activity in the US and Europe in the first decade of the Twentieth Century. In 1910 activists at the International Conference of Socialist Working Women in Copenhagen called for rallies to be held the following year to mark union victories and the struggle for women's suffrage. The first Australian IWD rally took place on March 25 in the Sydney Domain. Organised by the Militant Women's Group it was held in the context of cuts in living standards and a series of strikes against them. Demands included an eight-hour day for retail workers, equal pay, an end to piece work and other workplace rights for women. Read more Standing up for women's rights: The radical history of International Women's Day from Green Left weekly by Kathy Fairfax.
29th March 1916, Sydney: The editor of the Industrial Workers of the World's Direct Action newspaper, Tom Barker is sentenced to 12 months hard labour for publishing an anti-war cartoon.
Mar 31 1985: Palm Sunday peace rallies are attended by 300 000 people across Australia.
April
1 April 1978, Queensland: Although his notoriously corrupt and authoritarian National Party government had been hounding demonstrators for years Premier Joh Bjelke Petersen upped the ante in 1977 by declaring that street marches were "a thing of the past." Protest groups were told they "need not bother applying for permits… because they won't be granted… that's government policy now".
Over the coming years these bans, and others ostensibly based on preventing disruption to traffic and passers-by, were consistently challenged. As part of this Bundaberg dentist Henry Akers applied in 1978 for permission to march with his dog down a No Through Road on April Fools Day at 2.45am. Although his request was rejected, it received widespread publicity. Regardless of the authorities' decision, one man and his dog marched that morning with Akers carrying a sign reading "The majority is not omnipotent. The majority can be wrong and is capable of tyranny". Police officers were present, but chose not to make an arrest.
4 April 2014, Sydney: Having been tipped off that refugees were soon to be forcibly relocated to the remote Curtin facility in Western Australia their supporters began mobilising. On April 2 2014 a protest was held outside the offices of the department of Immigration and the following day members of Students Think Outside Borders, Refugee Action Collective and others assembled at 4.30am to picket the Villawood Detention Centre. 6 were arrested that day, but on April 4 blockaders redoubled their efforts and began assembling at 11pm. Despite riot police being brought in the following day 100 people disrupted operations for a second time.
During these events photographs were taken of handcuffed refugees in buses and uploaded online. These unsurprisingly attracted negative comments leading to a threat from the Department of Immigration to ban a regular visitor from the detention centre if they did not remove a remark from their Facebook page. The comment was eventually deleted, but not before it and the threat from the department had been widely shared on social media.
8 April 1998, Sydney: Hours after the mass sacking of waterfront workers, in a government-employer orchestrated bid to destroy the Maritime Union of Australia, 5000 marched to Darling Harbour to bolster hastily formed picket lines.
9 April 1990, Melbourne: A flotilla of 55 activists blockaded a ship bearing rainforest timber from South East Asia as it attempted to travel up the Yarra River.
10 April 1997, Perth: 150 workers occupied the public gallery of state parliament to protest against the passage of anti-union laws.
11 April 1994, Brisbane: A group of squatters barricaded themselves into a previously abandoned West End Housing Commission property to prevent an eviction and ensure the home continued to be used for shelter.
14 April 2011, Hobart: Protesters acting in defence of Kutalayna, a site of significance for Aboriginal people, shut down work on the Brighton Bypass.
15 April 1984, Sydney: 250 000 marched for peace and nuclear disarmament.
16 April 1994, Melbourne: GLBTIQ+ protesters picketed Cadbury Schweppes' head office after the company withdrew advertising from the 'Hey Hey It's Saturday' TV program due to a live cross to the Mardi Gras parade.
17 April 2012, Melbourne: Disabled people rallied outside Parliament to demand accessible transport for all Victorians.
20 April, 1931, Adelaide: 75 teenage caddies struck at Seaton golf links over attempts to lower their wages.
April 21, 1856, Melbourne: Having seen a small number of their Sydney peers win the Eight Hour day the previous year, Melbourne's stonemasons accelerated their campaign for all involved in the industry to enjoy "Eight Hours Labour, Eight Hours Rest and Eight Hours Recreation". With the contractor for Parliament House holding up negotiations, unionist James Stephens called a stop-work at the Old Quadrangle Building where Melbourne University was being built. Stephens later recalled that after insisting "that the resolution of our society should be carried by physical force if necessary" he beckoned "upon the men to follow me, to which they immediately consented…" Marching to various building sites the workers shut down sites across the city as part of an indefinite strike. Following this display of clout, employer resistance immediately collapsed. Soon the norm for stonemasons in Victoria became a working day beginning at 7am and finishing at 5pm, with two hours for meals.
With most workers typically labouring 56 hours a week, and child labour widespread, the success of the Stonemasons led to a concerted push for reduced hours. As part of this, a victory parade of 12 000 people was held on May 12. Each year thereafter a commemorative parade was held on the same date until 1876 when the state government declared April 21 an annual public holiday in honour of the victory. At their height, the parades would see around 10 000 unionists march past a crowd of 100 000 onlookers. As sections of the union movement became increasingly incorporated into parliamentary politics these Labour Day celebrations became the respectable face of unionism with May Day supplanting them as the main date on the radical calendar.
April 23 1982, Sydney: 300 GLBTIQ+ and pro-choice protesters heckled, booed and disrupted the last public engagement of an Australian tour by corrupt US Christian fundamentalist preacher Jerry Falwell.
25 April, 1981, Canberra: In the first of many such actions to come, Women Against Rape In War marched and laid wreaths at the Stone of Remembrance during ANZAC commemorations.
29 April 1970, Sydney: Aboriginal activists and supporters protested and threw wreaths into the water during a re-enactment of Cook's landing marking the 200th anniversary of the British raider's first arrival.

30 April 2013, Melbourne: A march of 10 000 building workers, demanding improved safety conditions and an end to anti-union activity by Grocon, visited sites run by the company. These included one where a worker had been killed and another where three members of the public had died after a wall collapsed upon them. Grocon was later fined $250 000, $1 million less than the Construction, Forestry, Mining and Energy Union was ordered to pay out in the same period for industrial action related to working conditions. Despite the company's admission of negligence none of its executives or directors have ever faced manslaughter charges.
May
1 May 1891, Brisbane: A year after Australia's first May Day celebrations were marked with a meeting in Melbourne around 1000 attend a rally in Brisbane with marchers wearing blue sashes and bearing the Eureka flag.
2 May 1974, Melbourne: Students at RMIT hold a one day strike and occupy Storey Hall demanding better facilities and a union building.
5 May 2014, Sydney: Students disrupt an appearance by Education Minister Christopher Pyne on the ABC's Q&A program, unfurling a banner that reads "More Brains Not Warplanes."


8 May 1970, Australia: Hundreds of thousands of people across Australia participate in Vietnam Moratorium demonstrations, the largest protest ever held in the country up to that time, demanding an end to the war. Learn more about the Vietnam War.

9 May 1919, Fremantle: Flags fly at half-mast across the port as 3000 attend the funeral of Tom Edwards, a stevedore killed 5 days earlier when strikers evicted police, scabs and the Premier from the docks.
13 May 1932, Sydney: Hundreds of picketers force police and bailiffs to abandon the eviction of a household in Surrey Hills.
14 May 2014, NSW: A massive blockade by anti-CSG protesters forces the NSW government to suspend Metgasco's licence to drill at Bentley.
16 May, 2008, Melbourne: 300 seniors block the Flinders St Station intersection calling for the pension to be set at 35% of average weekly earnings.
18 May 1977, Canberra: Hundreds of cyclists from across the country arrive in the national capital to protest against uranium mining.
19 May 1933, Melbourne: A civil rights rally in Coburg sees police shoot activist 'Shorty Patullo' while speaking atop a tram, but fail to stop artist Noel Counihan from delivering a speech from inside a cage.
25 May 2014, Northern Territory: 250 march through Tennant Creek in opposition to government plans to build a nuclear waste dump at Muckaty Station.
26 May 1997, Australia: The first Sorry/Healing Day is held to recognise the suffering and oppression Aboriginal and Torres Strait Islander communities people have experienced and continue to endure.
28 May 2000, Sydney: 250 000 march across the Sydney Harbour Bridge in a show of support for reconciliation with First Nations.
29 May 1876, Fremantle: Six Irish political prisoners escape the colony aboard the U.S. ship Catalpa.
31 May 31, 1972, Melbourne: Thousands of secondary students strike and march for youth rights and improved educational facilities.
June
2 June 1972: Unions ban the servicing of UTA aircraft as part of their opposition to French nuclear testing.
3 June 1992, Canberra: Following years of activism by Eddie Mabo and other land rights campaigners the High Court overturns the doctrine of Terra Nullius.
4 June 1925: The Seaman's Union defies threats of deregistration by going ahead with a series of national strikes.
6 June 1991, Perth: ACT UP stage a "die-in" outside the Federal Department of Community Services and Health to highlight government inaction on AIDS.
8 June 2000, South Australia: 480 refugees break out of the Woomera Detention Centre and walk into the nearby town to demand freedom.
10 June 1973, Sydney: Squatters move into houses slated for demolition in Victoria St, Woolloomooloo to prevent the further destruction of its community and heritage. Listen to an interview about the Victoria St squats.
11 June 1838, Hobart: Convict Eliza Murray faces court after attempting to set her own work hours.
12 June 2005, Queensland: Protesters enter the Shoalwater military base and blockade its entrance in an attempt to disrupt US:Australian military exercises.
16 June 1957, Palm Island: Aboriginal people strike for the right to be paid in wages rather than rations by the Queensland government.
18 June 1970, Sydney: The first NSW Green Ban is imposed by the Builders' Labourers Federation (BLF) at Kelly's Bush.
19 June 2014, Northern Territory: Following concerted campaigning by Indigenous residents and environmentalists, the Northern Land Council and the federal government withdraw plans to build a nuclear waste dump at Muckaty Station.
21 June 1993, Sydney: Direct Action Against Homelessness occupy houses in Forest Lodge left to rot for three years by the University of Sydney.
24 June 1978, Sydney: The first Gay Mardi Gras march ends in a police riot.
26 June 1969, Melbourne: The Victorian BLF imposes Australia's first green ban by preventing demolition work in Carlton.
27 June 1949: A national coalminers' strike in support of the 35 hour week kicks off leading to severe gas and electricity restrictions.
28 June 2006: 100 000s protest around Australia against the Howard government's attacks on workers rights and conditions.
29 June 1991, Perth: 150 queer activists and supporters march through Perth to mark Stonewall Day.
30 June 1976, Victoria: Over 400 000 strike demanding the retention of public health care via the then government run Medibank service.
July
1 July 2013, Melbourne: Hundreds of Burger Off campaign supporters begin picketing and occupying the site of a proposed MacDonalds store in Tecoma.
2 July 1994, Pemberton: Western Australia's first forest blockade is launched near Pemberton leading to an immediate two-week moratorium on logging in the four areas targeted by environmentalists. 
4 July 2003, Perth: After a year of campaigning environmentalists prevent the destruction of Ningaloo reef.
5 July 2002, Adelaide: The Stamford Plaza Hotel backs down on introducing a threatened 33% pay cut after room attendants take industrial action.
7 July 1980, NSW: Protesters against sand mining at Middle Head beach disrupt preliminary work by occupying the site and pulling fence posts out as soon as contractors put them in.
8 July 1915: The Women's Peace Army is formed to fight conscription.
9 July 2003, Wollongong: As part of action against statewide education staff cuts and increases in student fees, unionists at the Upper Illawarra Institute of TAFE place an indefinite ban on the collection and processing of money related to enrolments.
July 10, 1984, Melbourne: The Unemployed Workers Union occupy a Commonwealth Employment Service office removing cards advertising jobs paying less than minimum award rates and demanding toilets and childcare facilities.
July 11 1974, Sydney: Union action forces Frank Sinatra to apologise for branding Australian journalists "pimps" and "hookers". 
July 12 1976: 1.6 million people, close to half the Australian workforce, strike over the Fraser government's attacks on Medibank.
July 14 2004, South Australia: The Kupa Piti Kungka Tjuta senior Aboriginal women's council wins a six-year battle to prevent the federal government from dumping nuclear waste on their lands.
July 16 1984, Darwin: Two stowaways and a protest flotilla delay a uranium shipment from leaving Australia onboard the British carrier the Clydebank.
July 19 1917, Perth: The WA Trades Hall Council warns that strike action will meet any attempt to sack workers for refusing to enlist in the military.

July 20 2010, Sydney: Over 5000 building workers and others rally in support of unionist Ark Tribe as he faces a South Australian court over his refusal to answer questions from the Australian Building and Construction Commission about union activities. 
July 21, 1982, Northern NSW: The Nightcap Action Group begins blockading old growth logging at Grier's Scrub.
July 23 1980, Perth: Psychiatric nurses at Swanbourne Hospital end a week-long strike over the sacking of a unionist for conducting a safety survey.
July 24 1998: Students across Australia stage high school walk outs over the racist policies of One Nation.
28 July 1933, Melbourne: 1000s of unemployed rally in Bourke Street against work for the dole schemes. Listen to a podcast about The Unemployed Workers' Movement in 1930s.
30 July 1970, Melbourne: Members of the women's group Save Our Sons hold an anti-war protest at Doncaster Shopping Town.
31 July 1832, Sydney: 14 convicts are sentenced to flogging after they strike over the poor quality of their rations.
August
1 August 1980, Melbourne: Public transport users ride free for a day after conductors refuse to collect fares as part of wider action against fare hikes.
2 August 1917, Sydney: Employees in the NSW government's Eveleigh Railway and Randwick Tramway workshops stop work over the introduction of "scientific management" techniques aimed at speeding up the pace of labour. This triggers what will become a massive strike involving around 100 000 workers across various industries in NSW, Victoria and Queensland.
2-3 August, South Australia: South Australia's first ever "stay-in strike" took place at Brompton on August 2 and 3 1937. 450 employees of the South Australian Gas Company won back industry allowances associated with health risks after an 18 hour occupation which featured entertainment from an impromptu jazz band.

6 August, 1984: Northern Queensland: Having delayed the ramming of a 33km four-wheel drive track through the Daintree rainforest during 1983, forest defenders kicked off a new round of blockading on August 6 1984. Faced with activists buried up to six feet deep in the ground, some with their legs chained to concrete slabs and logs, as well as by others chained to a series of 'fiddlesticks' (logs spiked with nails to prevent them being cut with chainsaws), bulldozers were halted for days. Once removed, activists took to tree sits and held out against arrests, heavy fines and attacks by police dogs for a further 13 days.
Although the Queensland state government and local council triumphed in the short term, destroying much old growth forest in the process, the delays and publicity associated with the blockade played an invaluable role in the campaign against the destruction of the Wet Tropics. The track's launch in October proved to be an embarrassing affair. Even before the wet season had fully arrived a 50 vehicle convoy, including those carrying the Douglas Shire Council mayor and Queensland's Environment Minister, became bogged with eight or nine cars stuck late into the night.  Within three months, sections of the road had collapsed 300 metres from its beginning at Cape Tribulation. Despite remaining inaccessible to most vehicles, the project was unofficially abandoned and promised upgrades never eventuated. Following concerted campaigning, World Heritage status and greater protection for over 900,000ha of forests in North Queensland was granted by the federal government four years later.
6 August 1982, Sydney: In 1982 the Fraser government pushed through approvals for the mining of uranium at Jabiluka in the Northern Territory. This was consistently opposed for decades by Mirrar Traditional Owners on a variety of grounds, not least the abrogation of their sovereignty. One of the first protests against the proposed mine outside of the NT took place on 6 August 1982 in Sydney when the offices of Pan Continental Mining were picketed. To find out more about the campaign to stop the mine visit Jabiluka: Fight for Country
7 August 1980, Western Australia: Aboriginal people from across the Kimberley region along with unionists and other supporters of the Noonkanbah community's right to deny mineral exploration on their land blockade a convoy of mining vehicles at multiple locations. After mining company AMAX gains access to the site the drilling crew, all union members, strike over the draconian actions of the WA government in removing protesters. 
8 August 1972, Sydney: A protest is held against the common use of aversion therapy by psychiatrists seeking to "convert" gays and lesbians.

12 August, 1979, Terania Creek NSW: On August 12th 1979 approximately 100 people opposed to the imminent destruction of rainforest habitat met at Terania Creek. Having spent five years employing orthodox methods of lobbying and public submissions to no avail they spontaneously decided to set up a protest camp. Utilising improvised forms of organisation, consensus decision making and tactics such as placing bodies, objects and vehicles upon roads and occupying trees they disrupted work for around four weeks before the NSW state government placed a moratorium on logging. Following further blockading at Mount Nardi and Grier's Scrub in 1982 the NSW government created a new series of national parks that included all of the forests where direct action had taken place. To find out more about the protests listen to Part 3 of the Treesits, Lock-ons and Barricades: Environmental Blockading in the 1980s podcast series. Also, listen to the songs of the Terania forest blockade.
14 August 1963, Canberra: Two bark petitions, one written in Yolngu Matha and the other in English, become the first traditional Aboriginal document to be tabled in federal parliament. Their assertion of sovereignty and opposition to bauxite mining from the Yirrkala people of Arnhem Land is ignored by the government but plays a major role in triggering a new wave of Land Rights campaigning.
17 August 2013, Cairns: The Freedom Flotilla leaves for West Papua to support resistance against Indonesian occupation. 
20 August 1997, Melbourne: As part of opposition to the introduction of up-front fees for higher education students occupy RMIT's financial services offices.


23 August 1967: Occupations are a great way to disrupt business as usual, present demands directly to those responsible for anti-social activities and policies, and attract attention to an issue. Throughout the the Vietnam War, regular protests at the US consulate took place. These ranged from silent vigils to blasting the building with speeches from loud speakers. In one of many occupations a group of anti-war activists responded to the intensified bombing of Vietnam by taking over the consulate's office passageway on August 23rd 1967. This protest came at a point when the majority of Australians still supported the war, but within a few years opposition had built to the point where hundreds of thousands were taking part in anti-war marches.
23 August 1966, Wave Hill, NT: On the 23rd of August 1966 Aboriginal pastoral workers and their families walked off Wave Hill station demanding equal pay and an end to the intolerable conditions they worked and lived in. The campaign soon came to also focus on land rights. The determination of the Gurindji people and support from unions, the Communist Party of Australia, the Federal Council for the Advancement of Aborigines and Torres Strait Islanders and others saw the community win back approximately 3300 square kilometres of their country in 1975.  A case study and training process guide based on this iconic campaign, and excerpted from Building Power: A Guide for Aboriginal and Torres Strait Islanders Who Want to Change the World
Photograph by A.K.Hanna [CC BY-SA 4.0]]
26 Aug 1975, Wave Hill, NT: On 26 August 1975 Prime Minister Gough Whitlam handed a leasehold title to land at Daguragu (Wattie Creek) to Vincent Lingiari, representative of the Gurindji people. Learn more about the Gurindji Land Rights Struggle.
29 August 1939, Sydney: Prison reform activist Samuel Rosenberg ends an 18 day hunger strike protesting NSW's use of the death penalty.
29 August 1977, Sydney: An anti-uranium mining occupation – 20 activists shut down the Ranger Uranium Mining Company's Sydney offices as part of a national day of action which saw thousands rally across the country against the expansion of Australian involvement in the nuclear cycle.
30 August 2014, Melbourne: In August 2014 the misleadingly named World Congress of Families held a conference in Melbourne. Those opposed to the group's aim of snuffing out LGBTIQ and women's rights mobilised for months before the event. By directing complaints to venues via social media and other means they forced the gathering to move locations four times and created a media furore that forced various politicians to withdraw from attending. When it was finally held on 30th August the small number who still turned up were greeted by a Block Party Against Hate and other protests. Follow this link to hear more about the corrosive effect of homophobia and how it can be countered.
31 August 1890, Melbourne: Despite facing armed police and soldiers 40 000 people attend a meeting outside Federal Parliament in support of sailors, dock workers, shearers, miners and others taking part in a national strike for improved wages and conditions in the maritime industry.
September
1 September 1999, Melbourne: Construction sites are shut down across the city as part of protests demanding, in the wake of marking the death of the tenth building worker for the year, improved workplace safety and industrial manslaughter laws. 
6 September 1898, Victoria: Calling for women's suffrage more than 200 protesters invade the Parliamentary clubroom of the Legislative Council.
10 September 1976, Sydney: ABC TV transmissions are blacked out for half an hour during a stop work to protest censorship by the station's new chairman.
12 September 2014, NSW: Residents set up a protest camp and begin picketing to prevent AGL from carrying out coal seam gas exploration in the Gloucester Valley.
14 September 1984, Alice Springs: 1500 march against proposals to weaken protection for Aboriginal sacred sites.
15 September 1983, Brisbane: In 1978 the ultra-conservative Queensland state government cracked down on progressive movements by banning street protests. This resulted in a long and hard fought campaign of defiance which led to thousands of arrests. After six years a group of activists tried a new tack by declaring Bris­bane's Queen Street Mall a "Free Speech Mall" on 15 September 1983. On the day a ribbon cutting ceremony took place before application forms for protest permits, which the government was notorious for never granting, were torn up. Festivities concluded with protesters marching out of the mall carrying a banner reading "Per­mit Schmermit" before 22 were promptly arrested. Months of further action would ensue before authorities backed down in November, unofficially allowing soapbox speaking in the mall to continue unopposed.
15 September  2011, Darwin: Refugees stage a roof top protest at the Northern Immigration Detention Centre hanging banners reading "We need help" and "People smugglers and DIAC [Department of Immigration and Citizneship] are the same, both playing with our life."

Watch: The Battle for Bowen Hills (21 mins by Peter Gray and Garry Lane. Courtesy of Reason in Revolt website (CC BY-NC-ND 3.0 AU)

16 September 1973, Brisbane: Anti-freeway protestors squat houses in Bowen Hills as part of a successful campaign to save parts of the suburb from destruction.
17 September 1936, Melbourne: Over 4000 people attend an International Peace Congress held at the Exhibition Buildings.
18 September 2012, NSW: Residents of Nattai declare their town, and much of Sydney's water catchment, CSG free.
25 September, 1991, Chaelundi: Logging is ended in Northern NSW's Chaelundi old growth forest after months of intensive blockading using lock-ons, tripods and tree-sits.
Rising Tide website
26 September 2010, Newcastle: Members of Rising Tide occupy loaders and other infrastructure shutting down the world's biggest coal port for eight hours. Watch video, read media releases on the Rising Tide 7 website.
27 September 1971, Melbourne: Activists opposed to the war against Vietnam create a Draft Resisters Sanctuary and shelter those defying conscription during a three day occupation of the Melbourne University Student Union.
October
1 October 2004, Melbourne: Refugees, peace activists and others picket the Melbourne Arts Centre  in disgust at Foreign Minister Alexander Downer being invited to address a symposium on 'Iraq and Human Rights Challenges.' Despite avoiding a rat trap laid at the entrance the politician was still served with a warrant to answer crimes relating to the invasion of Iraq and the torture of its citizens.
1 October  1968, NSW: The state's first ever teacher strike is held demanding improved work conditions and education funding.
3 October 1927, Sydney: Aboriginal activists petition the NSW government to call for an end to the forced removal of their children.
5 October 1995, Brisbane: 4000 Secondary students from 45 schools strike as part of ongoing protests against French nuclear testing.
7 October 2012, Victoria: Following a series of packed public meetings throughout the region and promises of direct action, mining company ECI International gives up its licence to explore for CSG in a 500km area covering Colac and the Otway Ranges.
8 October 1989, Sydney: 1000 attend a rally at Bondi Beach organised by People Opposed to Ocean Outfall (POOO).
9 October 1989, Perth: Police evict members of the Nyungar community and their supporters who have been occupying sacred land at the Old Swan Brewery Site, but union bans and community pickets continue to halt destructive redevelopment until August 1992.
11 October 1982, Melbourne: Members of the Women With Disabilities Feminist Collective invade the stage to disrupt the Miss Victoria beauty pageant.
12 October 1944, Sydney: Striking newspaper workers produce their own paper and sell over 100 000 copies.
14 October 1967, Melbourne: Conscientious objector John Zarb is sentenced to two years in prison and receives a life membership from his union, the Amalgamated Postal Workers, for his stand against conscription. 
15 October 2006, Australia: On International Anti-Poverty Day cleaners rally in all capitals in support of the Clean Start, Fair Deal for Cleaners campaign.
20 October 1989, Canberra: The Sisters of Perpetual Indulgence cast out the demons of "homophobia, racism and National Party cronyism" at the Queensland Tourism Bureau during a rally over homophobic laws and violence in that state as well as around the rest of the country.
21 October 1969, Melbourne: Zelda D'Aprano chains herself to the Commonwealth building in Melbourne. Sick and tired of government and union footdragging, and echoing the struggles of the British suffragettes, Zelda D'Aprano chained herself across the doors of the Commonwealth Building in Spring Street, Melbourne on 21st October 1969 to demand equal pay for women. As she later recalled in her autobiography, "I felt strongly about the need for women to begin fighting their own battles…The press, radio and TV arrived and it was on. They asked why I was protesting in this manner and what I hoped to gain from this demonstration. I explained that I was protesting against the injustice done to women over the right to equal pay and, when asked how I felt about being the only woman prepared to do this, I told them that today it was me, tomorrow there would be two, then four women, and it would go on until all women were demanding their rights." Ten days later she was joined by two other women in chaining themselves to the doors of the Arbitration Court, "the institution which refused to grant women equal pay for work of equal value… There was just sufficient chain to allow the door to open slightly and people had to bend down and crawl in sideways to enter the building. This was so undignified for the 'important' people and one commissioner told a union official in the building that he was lucky I didn't know who he was or I may have wrapped the chain around his neck."
22 October 1966, Brisbane: When US President Lyndon Baines Johnson toured Australia in October 1966 he was generally met with a welcome previously reserved only for British royalty and The Beatles. Echoing a cultural and foreign policy shift from one empire to another, massive crowds, numbering more than 500,000 in Melbourne, turned out to cheer him. The visit also sparked the first widespread and consistent series of national protests against Australian involvement in the Vietnam war, protests which within a few years would turn the tide of national opinion against the Vietnam war. LBJ's stop in Brisbane on October 22 encountered a lively demonstration in King George Square.
26 October 2005, Queensland: In their first statewide strike ever ambulance workers stop work to demand improvements in staffing and conditions.
28 October 1937, Sydney: The Council of Action for Equal Pay is founded to gain wage parity for women.

28 October 1916: On the 28 October 1916 a narrow majority of Australians voted against the introduction of military conscription in a national referendum. Rather than bringing Australians together, as patriotic myths would have it, involvement in the First World War divided the nation. Although PM Billy Hughes' federal government officially had the power to introduce compulsory military service the depth of opposition forced them to seek a mandate. In the end concerted campaigning ensured that mandate was not forthcoming. Defying restrictions on free speech, activists sang banned anti-war songs, distributed illegal pamphlets and organised scores of rallies and meetings, resulting in a successful vote against conscription on this and a second occasion in 1917.
28 October 1916, Australia:  Defeat of the first referendum on conscription. In defiance of government censorship and repression unionists, syndicalists, pacifists, socialists, Irish republicans and others waged a long campaign to see military conscription defeated via referendum on 28th October 1916. In the run-up to the vote, tens of thousands rallied against conscription in Melbourne with 15 000 unionists holding a stop-work meeting and 60 000 joining a parade held by the United Women's No-Conscription Committee. Having been asked, "Are you in favour of the Government having, in this grave emergency, the same compulsory powers over citizens in regard to requiring their military service, for the term of this War, outside the Commonwealth, as it now has in regard to military service within the Commonwealth?" 1,160,033 Australians voted against the bill and 1,087,557 in favour. Incensed at the defeat Prime Minister Billy Hughes left the Australian Labor Party, passed draconian anti-protest laws, instituted a crackdown on the vehemently anti-war Industrial Workers of the World. Nevertheless, conscription was again rejected at the second referendum in 1917.

October 1971: African-American activist and philosophy lecturer Angela Davis was arrested on October 13 1970 on 'conspiracy' charges related to Black Panther Johnathon Jackson's failed attempt to free fellow party members by kidnapping a judge and others hearing their case. Held in prison for 16 months she gained bail in 1972 and was subsequently found not guilty. Solidarity came from across the world and in Australia Free Angela Davis committees were set up around the country. Beginning at the end of September and continuing throughout October 1971 a series of protests, including those pictured here, took place outside the US embassy in Canberra, the Sydney Town Hall, the US consulate in Sydney and other locations.
November

1 November 1979, Sydney: The city's first lesbian and gay radio program Gaywaves begins broadcasting on 2SER. Beginning at a point when homosexuality is still illegal it becomes a mainstay of Sydney's activist scene and remains on air for 26 years. Listen and explore the Gaywaves Collection at the National Film and Sound Archive of Australia website.
3 November 1920, North Stradbroke Island: Aboriginal author and activist Oodgeroo Nooncuccal (also known as Kath Walker) is born.
4 November 2006, Australia: More than 80 000 nationally take part in Walk Against Warming protests.
5 November 1880, Melbourne: 4000 protest demanding clemency for Ned Kelly.
7 November 1836, Tasmania: Convict Eleanor Redding is charged for turning her Master's shirts into "pasteboard" after he complained of her using insufficient starch.
7 November 1945, Sydney: More than 200 people demonstrated in support of Indonesian independence at Wooloomooloo wharf in Sydney, 1945 where Dutch troops were being transported aboard the British ship the Stirling Castle. During the rally water hoses were turned on the crowd. Following the withdrawal of Japanese troops Indonesians had declared independence from the Netherlands on 17 August 1945. With the support of the US, Australia and other allies, the Dutch government moved to reoccupy its colonial holding. Four years of armed conflict would ensue before Indonesia's sovereignty was finally recognised. Australian unionists, communists and others were quick to support the anti-colonial movement with more than 4000 waterside workers laying bans on the shipment of arms and troops and a number of protests held.
9 November 1982, Sydney: As part of an ongoing campaign for land rights an Aboriginal Tent Embassy is erected outside the NSW State Office. Learn more about the Aboriginal Tent Embassy.
10 November 1992, Melbourne: Over 200 000 people march and strike against austerity measures introduced by the Kennett Government.
11 November 1964, Sydney: The first demonstration against conscription is held the day after PM Menzies announces its reintroduction.
12 November 2013, Melbourne: 200 Kingsville residents blockade Somerville Road calling for a ban on container trucks along the street during school crossing times.
13 November 2002, Sydney: Over 1000 rally against a meeting of the World Trade Organisation.
14 November 1980, Perth: Firefighters engage in their first-ever strike after management disciplines unionists for attending workplace meetings.

15 November 1938, Port Kembla: Wharfies refuse to load pig iron knowing that it will be used to manufacture bombs in Japan known as the Dalfram Dispute. Read more about the dispute in Against Fascism and War: Pig Iron Bob and the Dalfram Dispute – Port Kembla 1938 by Mike Donaldson and Nick Southall. Find out more about Unions and communities working together.
15 November 1927, NSW: The Australian Aborigines Progressive Association petitions the King of England demanding land rights.
18 November 1938, Darwin: 6 Aboriginal domestic workers employed at Darwin Hospital strike over restrictions placed on their movements by the managers of government accommodation.
19 November 1946, Sydney: A large demonstration against price rises blocks traffic in Macquarie Street.
20 November 1989, South Australia: Greenpeace block a pipe to prevent a pulp mill pipe from spewing toxic waste into Lake Bonney.
22 November 1916, Perth: Future PM John Curtin is jailed for refusing to register for conscription.

23 November 1991, Canberra: Protests disrupting the AIDEX arms fair for five days lead to the cancellation of future events. Find out more – Always Look On The Bright Side Of Life: The AIDEX '91 Story
26 November 1990, Brisbane: 350 women attend Queensland's first Reclaim The Streets march.
30 November 2006, Australia: On the anniversary of the Eureka Stockade 270 000 march nationally against Work Choices legislation that seeks to drive down wages and conditions and crush unions.
30 November 1983, Northern Queensland: The first of two blockades begins at Cape Tribulation after council workers move in to build a 33km path through the Daintree rainforest. Read more from the excerpt of Bill Wilkie's book – The Daintree Blockade: The battle for Australia's rainforests. Listen to podcast ABC Radio interview on the Daintree Blockade.
December
5 December 1972, Melbourne: After a long dispute with her union Joyce Day becomes Victoria's first female tram driver.
6 December 1980, Perth: Santa Claus and others are arrested at a demonstration defying Western Australia's 54-B anti-protest laws which make it an offence to.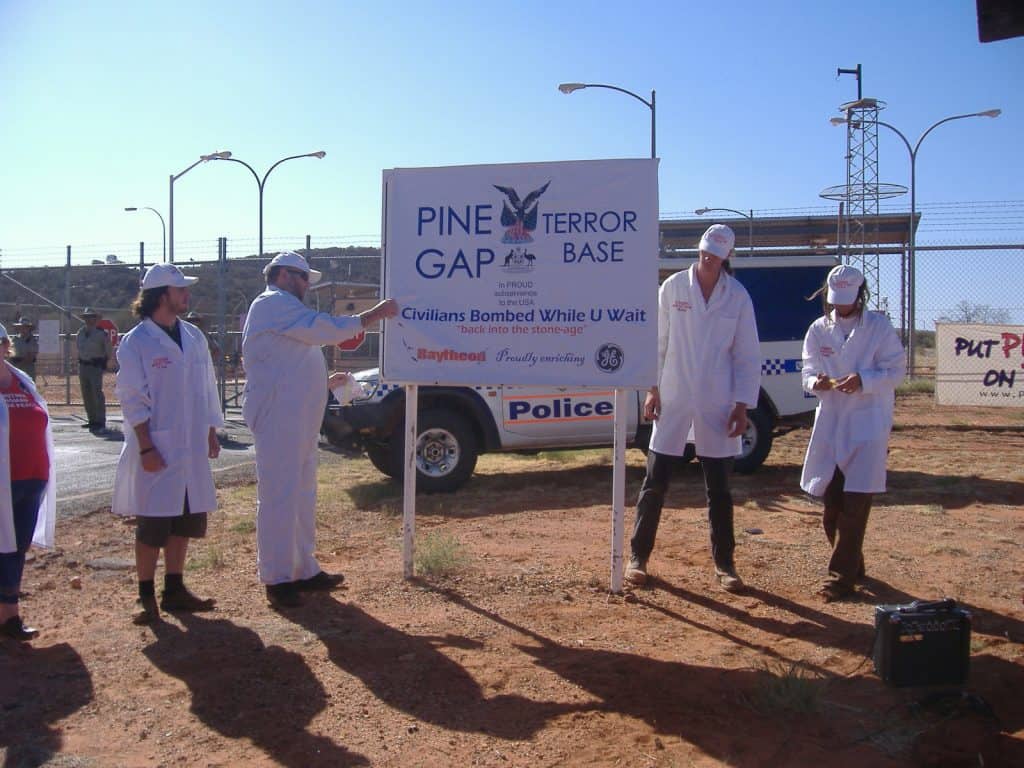 9 December 2005, Pine Gap: On Dec 9th 2005 four members of Christians Against All Terrorism were arrested after they entered the US run Pine Gap spy base to hang protest banners and carry out a citizen's inspection in regards to the installation's involvement in suspected terrorist activity. Despite receiving permission from the Traditional Owners of the land all were charged with "trespass" and "damaging government property" and served up to two weeks in jail after refusing to pay fines. Photo courtesy of pinegap6.ivejournal.com
11 December 1890, Sydney: An Aboriginal deputation from Maloga Mission visits the Premier demanding land and independence.
16 December, 1929, Rothbury: During picketing striking coal miner Norman Brown is shot dead by police.
19 December 2014, Sydney: After a refugee protests his handcuffing and forced removal, seven passengers aboard an Air China plane refuse to take their seats forcing Immigration officials to abandon the deportation process. Photo courtesy of Refugee Action Coalition Sydney.
20 December 1917: Australians reject Prime Minister Billy Hughes' conscription proposals for a second time.
22 December 1846, Sydney: The Anti-Transportation Committee is formed to agitate for an end to the convict system.
23 December 1983, Sydney: Three members of Women For Survival are arrested while painting an anti-war slogan on the side of the UK warship the Invincible.
24 December 1941: After the government bans Christmas holidays under war provisions thousands of workers around the country resign their jobs on Xmas eve only to reapply for them in January.
27 December 1950, Darwin: More than 200 Aboriginal workers strike for a living wage.
28 December 1941: Musicals in Sydney and Melbourne are forced to carry on minus dancers and chorus singers due to strikes carried out by members of Actors Equity concerning poor pay and conditions.
28 December 1968, Melbourne: A conference bringing together Students for a Democratic Society members from across Australia was held in Melbourne, beginning on December 28, 1968. During it the Draft Resistance Movement launched a national "Don't Register" campaign against conscription. A major civil disobedience campaign kicked off in the months that followed after activists were arrested in Melbourne for handing out leaflets calling on 20 year old men to refuse to register for the draft. Hundreds were arrested and some protesters jailed before the police backed off and the Melbourne City Council rescinded By-Law 418, a rarely used statute which had long enabled anyone to be arrested for passing out unauthorised materials. This campaign fed into the national movement for all out resistance to conscription, one which would grow in popularity over the coming years and help turn the majority of Australians against the Vietnam war. See a detailed chronology of Australian protest action in opposition to the war.
Text is Creative Commons
Photos are copyright protected
More resources
Films about social movement struggles, victories and leaders
---
Topics:
Tags:
---