A list of small actions and major events which challenged the state of Australian society and pointed to better ways forward.  
Note: This is a 'live' list which is continually being added to.
August
1 August 1980, Melbourne: Public transport users ride free for a day after conductors refuse to collect fares as part of wider action against fare hikes.
2 August 1917, Sydney: Employees in the NSW government's Eveleigh Railway and Randwick Tramway workshops stop work over the introduction of "scientific management" techniques aimed at speeding up the pace of labour. This triggers what will become a massive strike involving around 100 000 workers across various industries in NSW, Victoria and Queensland.
2-3 August, South Australia: South Australia's first ever "stay-in strike" took place at Brompton on August 2 and 3 1937. 450 employees of the South Australian Gas Company won back industry allowances associated with health risks after an 18 hour occupation which featured entertainment from an impromptu jazz band.
6 August 1982, Sydney: In 1982 the Fraser government pushed through approvals for the mining of uranium at Jabiluka in the Northern Territory. This was consistently opposed for decades by Mirrar Traditional Owners on a variety of grounds, not least the abrogation of their sovereignty. One of the first protests against the proposed mine outside of the NT took place on 6 August 1982 in Sydney when the offices of Pan Continental Mining were picketed. To find out more about the campaign to stop the mine visit Jabiluka: Fight for Country
7 August 1980, Western Australia: Aboriginal people from across the Kimberley region along with unionists and other supporters of the Noonkanbah community's right to deny mineral exploration on their land blockade a convoy of mining vehicles at multiple locations. After mining company AMAX gains access to the site the drilling crew, all union members, strike over the draconian actions of the WA government in removing protesters. 
8 August 1972, Sydney: A protest is held against the common use of aversion therapy by psychiatrists seeking to "convert" gays and lesbians.

12 August, 1979, Terania Creek NSW: On August 12th 1979 approximately 100 people opposed to the imminent destruction of rainforest habitat met at Terania Creek. Having spent five years employing orthodox methods of lobbying and public submissions to no avail they spontaneously decided to set up a protest camp. Utilising improvised forms of organisation, consensus decision making and tactics such as placing bodies, objects and vehicles upon roads and occupying trees they disrupted work for around four weeks before the NSW state government placed a moratorium on logging. Following further blockading at Mount Nardi and Grier's Scrub in 1982 the NSW government created a new series of national parks that included all of the forests where direct action had taken place. To find out more about the protests listen to Part 3 of the Treesits, Lock-ons and Barricades: Environmental Blockading in the 1980s podcast series
14 August 1963, Canberra: Two bark petitions, one written in Yolngu Matha and the other in English, become the first traditional Aboriginal document to be tabled in federal parliament. Their assertion of sovereignty and opposition to bauxite mining from the Yirrkala people of Arnhem Land is ignored by the government but plays a major role in triggering a new wave of Land Rights campaigning.
17 August 2013, Cairns: The Freedom Flotilla leaves for West Papua to support resistance against Indonesian occupation. 
20 August 1997, Melbourne: As part of opposition to the introduction of up-front fees for higher education students occupy RMIT's financial services offices.

23 August 1966, Wave Hill, NT: On the 23rd of August 1966 Aboriginal pastoral workers and their families walked off Wave Hill station demanding equal pay and an end to the intolerable conditions they worked and lived in. The campaign soon came to also focus on land rights. The determination of the Gurindji people and support from unions, the Communist Party of Australia, the Federal Council for the Advancement of Aborigines and Torres Strait Islanders and others saw the community win back approximately 3300 square kilometres of their country in 1975.  A case study and training process guide based on this iconic campaign, and excerpted from Building Power: A Guide for Aboriginal and Torres Strait Islanders Who Want to Change the World
26 Aug 1975, Wave Hill, NT: On 26 August 1975 Prime Minister Gough Whitlam handed a leasehold title to land at Daguragu (Wattie Creek) to Vincent Lingiari, representative of the Gurindji people.
Photograph by A.K.Hanna [CC BY-SA 4.0]]
29 August 1939, Sydney: Prison reform activist Samuel Rosenberg ends an 18 day hunger strike protesting NSW's use of the death penalty.
30 August 2014, Melbourne: In August 2014 the misleadingly named World Congress of Families held a conference in Melbourne. Those opposed to the group's aim of snuffing out LGBTIQ and women's rights mobilised for months before the event. By directing complaints to venues via social media and other means they forced the gathering to move locations four times and created a media furore that forced various politicians to withdraw from attending. When it was finally held on 30th August the small number who still turned up were greeted by a Block Party Against Hate and other protests. Follow this link to hear more about the corrosive effect of homophobia and how it can be countered.
31 August 1890, Melbourne: Despite facing armed police and soldiers 40 000 people attend a meeting outside Federal Parliament in support of sailors, dock workers, shearers, miners and others taking part in a national strike for improved wages and conditions in the maritime industry.
September
1 September 1999, Melbourne: Construction sites are shut down across the city as part of protests demanding, in the wake of marking the death of the tenth building worker for the year, improved workplace safety and industrial manslaughter laws. 
6 September 1898, Victoria: Calling for women's suffrage more than 200 protesters invade the Parliamentary clubroom of the Legislative Council.
10 September 1976, Sydney: ABC TV transmissions are blacked out for half an hour during a stop work to protest censorship by the station's new chairman.
12 September 2014, NSW: Residents set up a protest camp and begin picketing to prevent AGL from carrying out coal seam gas exploration in the Gloucester Valley.
14 September 1984, Alice Springs: 1500 march against proposals to weaken protection for Aboriginal sacred sites.
15 September  2011, Darwin: Refugees stage a roof top protest at the Northern Immigration Detention Centre hanging banners reading "We need help" and "People smugglers and DIAC [Department of Immigration and Citizneship] are the same, both playing with our life."

Watch: The Battle for Bowen Hills (21 mins by Peter Gray and Garry Lane. Courtesy of Reason in Revolt website (CC BY-NC-ND 3.0 AU)

16 September 1973, Brisbane: Anti-freeway protestors squat houses in Bowen Hills as part of a successful campaign to save parts of the suburb from destruction.
17 September 1936, Melbourne: Over 4000 people attend an International Peace Congress held at the Exhibition Buildings.
18 September 2012, NSW: Residents of Nattai declare their town, and much of Sydney's water catchment, CSG free.
25 September, 1991, Chaelundi: Logging is ended in Northern NSW's Chaelundi old growth forest after months of intensive blockading using lock-ons, tripods and tree-sits.
Rising Tide website
26 September 2010, Newcastle: Members of Rising Tide occupy loaders and other infrastructure shutting down the world's biggest coal port for eight hours. Watch video, read media releases on the Rising Tide 7 website.
27 September 1971, Melbourne: Activists opposed to the war against Vietnam create a Draft Resisters Sanctuary and shelter those defying conscription during a three day occupation of the Melbourne University Student Union.
October
1 October 2004, Melbourne: Refugees, peace activists and others picket the Melbourne Arts Centre  in disgust at Foreign Minister Alexander Downer being invited to address a symposium on 'Iraq and Human Rights Challenges.' Despite avoiding a rat trap laid at the entrance the politician was still served with a warrant to answer crimes relating to the invasion of Iraq and the torture of its citizens.
1 October  1968, NSW: The state's first ever teacher strike is held demanding improved work conditions and education funding.
3 October 1927, Sydney: Aboriginal activists petition the NSW government to call for an end to the forced removal of their children.
5 October 1995, Brisbane: 4000 Secondary students from 45 schools strike as part of ongoing protests against French nuclear testing.
7 October 2012, Victoria: Following a series of packed public meetings throughout the region and promises of direct action, mining company ECI International gives up its licence to explore for CSG in a 500km area covering Colac and the Otway Ranges.
8 October 1989, Sydney: 1000 attend a rally at Bondi Beach organised by People Opposed to Ocean Outfall (POOO).
9 October 1989, Perth: Police evict members of the Nyungar community and their supporters who have been occupying sacred land at the Old Swan Brewery Site, but union bans and community pickets continue to halt destructive redevelopment until August 1992.
11 October 1982, Melbourne: Members of the Women With Disabilities Feminist Collective invade the stage to disrupt the Miss Victoria beauty pageant.
12 October 1944, Sydney: Striking newspaper workers produce their own paper and sell over 100 000 copies.
14 October 1967, Melbourne: Conscientious objector John Zarb is sentenced to two years in prison and receives a life membership from his union, the Amalgamated Postal Workers, for his stand against conscription. 
15 October 2006, Australia: On International Anti-Poverty Day cleaners rally in all capitals in support of the Clean Start, Fair Deal for Cleaners campaign.
20 October 1989, Canberra: The Sisters of Perpetual Indulgence cast out the demons of "homophobia, racism and National Party cronyism" at the Queensland Tourism Bureau during a rally over homophobic laws and violence in that state as well as around the rest of the country.
21 October 1969, Melbourne: Zelda D'Aprano chains herself to the Commonwealth building in Melbourne. Sick and tired of government and union footdragging, and echoing the struggles of the British suffragettes, Zelda D'Aprano chained herself across the doors of the Commonwealth Building in Spring Street, Melbourne on 21st October 1969 to demand equal pay for women. As she later recalled in her autobiography, "I felt strongly about the need for women to begin fighting their own battles…The press, radio and TV arrived and it was on. They asked why I was protesting in this manner and what I hoped to gain from this demonstration. I explained that I was protesting against the injustice done to women over the right to equal pay and, when asked how I felt about being the only woman prepared to do this, I told them that today it was me, tomorrow there would be two, then four women, and it would go on until all women were demanding their rights." Ten days later she was joined by two other women in chaining themselves to the doors of the Arbitration Court, "the institution which refused to grant women equal pay for work of equal value… There was just sufficient chain to allow the door to open slightly and people had to bend down and crawl in sideways to enter the building. This was so undignified for the 'important' people and one commissioner told a union official in the building that he was lucky I didn't know who he was or I may have wrapped the chain around his neck."
26 October 2005, Queensland: In their first statewide strike ever ambulance workers stop work to demand improvements in staffing and conditions.
28 October 1937, Sydney: The Council of Action for Equal Pay is founded to gain wage parity for women.
28 October 1916, Australia:  Defeat of the first referendum on conscription. In defiance of government censorship and repression unionists, syndicalists, pacifists, socialists, Irish republicans and others waged a long campaign to see military conscription defeated via referendum on 28th October 1916. In the run-up to the vote, tens of thousands rallied against conscription in Melbourne with 15 000 unionists holding a stop-work meeting and 60 000 joining a parade held by the United Women's No-Conscription Committee. Having been asked, "Are you in favour of the Government having, in this grave emergency, the same compulsory powers over citizens in regard to requiring their military service, for the term of this War, outside the Commonwealth, as it now has in regard to military service within the Commonwealth?" 1,160,033 Australians voted against the bill and 1,087,557 in favour. Incensed at the defeat Prime Minister Billy Hughes left the Australian Labor Party, passed draconian anti-protest laws, instituted a crackdown on the vehemently anti-war Industrial Workers of the World. Nevertheless, conscription was again rejected at the second referendum in 1917.
November

1 November 1979, Sydney: The city's first lesbian and gay radio program Gaywaves begins broadcasting on 2SER. Beginning at a point when homosexuality is still illegal it becomes a mainstay of Sydney's activist scene and remains on air for 26 years. Listen and explore the Gaywaves Collection at the National Film and Sound Archive of Australia website.
3 November 1920, North Stradbroke Island: Aboriginal author and activist Oodgeroo Nooncuccal (also known as Kath Walker) is born.
4 November 2006, Australia: More than 80 000 nationally take part in Walk Against Warming protests.
5 November 1880, Melbourne: 4000 protest demanding clemency for Ned Kelly.
7 November 1836, Tasmania: Convict Eleanor Redding is charged for turning her Master's shirts into "pasteboard" after he complained of her using insufficient starch.
9 November 1982, Sydney: As part of an ongoing campaign for land rights an Aboriginal Tent Embassy is erected outside the NSW State Office.
10 November 1992, Melbourne: Over 200 000 people march and strike against austerity measures introduced by the Kennett Government.
11 November 1964, Sydney: The first demonstration against conscription is held the day after PM Menzies announces its reintroduction.
12 November 2013, Melbourne: 200 Kingsville residents blockade Somerville Road calling for a ban on container trucks along the street during school crossing times.
13 November 2002, Sydney: Over 1000 rally against a meeting of the World Trade Organisation.
14 November 1980, Perth: Firefighters engage in their first-ever strike after management disciplines unionists for attending workplace meetings.

15 November 1938, Port Kembla: Wharfies refuse to load pig iron knowing that it will be used to manufacture bombs in Japan known as the Dalfram Dispute. Read more about the dispute in Against Fascism and War: Pig Iron Bob and the Dalfram Dispute – Port Kembla 1938 by Mike Donaldson and Nick Southall. Find out more about Unions and communities working together.
15 November 1927, NSW: The Australian Aborigines Progressive Association petitions the King of England demanding land rights.
18 November 1938, Darwin: 6 Aboriginal domestic workers employed at Darwin Hospital strike over restrictions placed on their movements by the managers of government accommodation.
19 November 1946, Sydney: A large demonstration against price rises blocks traffic in Macquarie Street.
20 November 1989, South Australia: Greenpeace block a pipe to prevent a pulp mill pipe from spewing toxic waste into Lake Bonney.
22 November 1916, Perth: Future PM John Curtin is jailed for refusing to register for conscription.

23 November 1991, Canberra: Protests disrupting the AIDEX arms fair for five days lead to the cancellation of future events. Find out more – Always Look On The Bright Side Of Life: The AIDEX '91 Story
26 November 1990, Brisbane: 350 women attend Queensland's first Reclaim The Streets march.
30 November 2006, Australia: On the anniversary of the Eureka Stockade 270 000 march nationally against Work Choices legislation that seeks to drive down wages and conditions and crush unions.
30 November 1983, Northern Queensland: The first of two blockades begins at Cape Tribulation after council workers move in to build a 33km path through the Daintree rainforest. Read more from the excerpt of Bill Wilkie's book – The Daintree Blockade: The battle for Australia's rainforests. Listen to podcast ABC Radio interview on the Daintree Blockade.
December
5 December 1972, Melbourne: After a long dispute with her union Joyce Day becomes Victoria's first female tram driver.
6 December 1980, Perth: Santa Claus and others are arrested at a demonstration defying Western Australia's 54-B anti-protest laws which make it an offence to.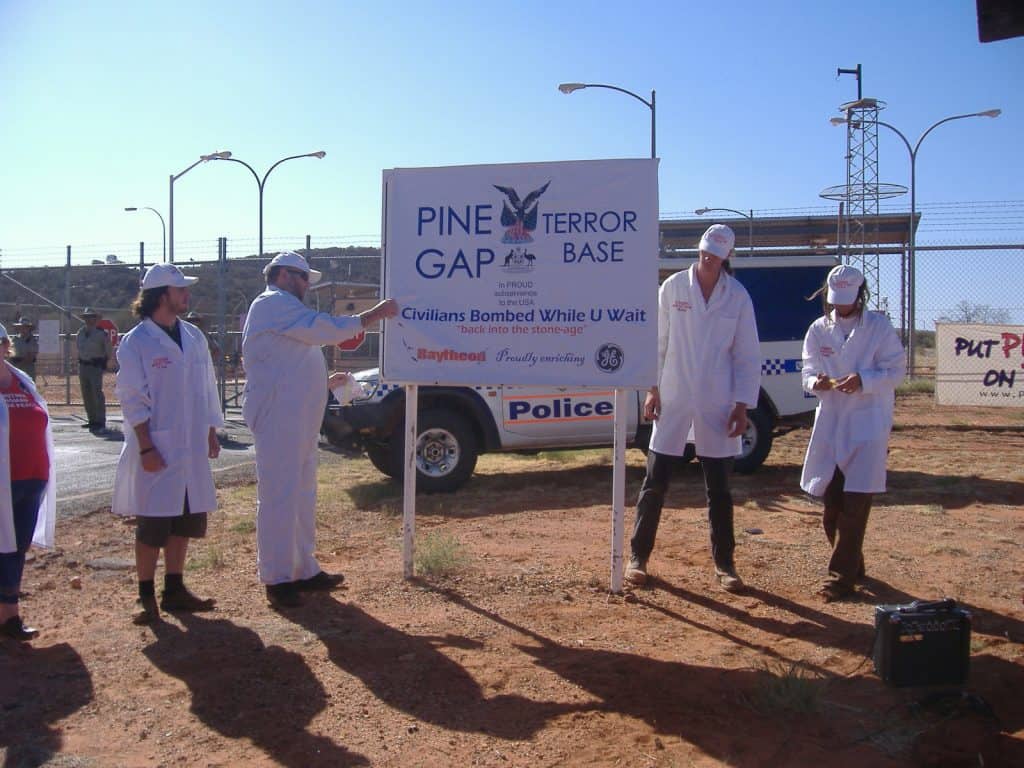 9 December 2005, Pine Gap: On Dec 9th 2005 four members of Christians Against All Terrorism were arrested after they entered the US run Pine Gap spy base to hang protest banners and carry out a citizen's inspection in regards to the installation's involvement in suspected terrorist activity. Despite receiving permission from the Traditional Owners of the land all were charged with "trespass" and "damaging government property" and served up to two weeks in jail after refusing to pay fines. Photo courtesy of pinegap6.ivejournal.com
11 December 1890, Sydney: An Aboriginal deputation from Maloga Mission visits the Premier demanding land and independence.
16 December, 1929, Rothbury: During picketing striking coal miner Norman Brown is shot dead by police.
19 December 2014, Sydney: After a refugee protests his handcuffing and forced removal, seven passengers aboard an Air China plane refuse to take their seats forcing Immigration officials to abandon the deportation process. Photo courtesy of Refugee Action Coalition Sydney.
20 December 1917: Australians reject Prime Minister Billy Hughes' conscription proposals for a second time.
22 December 1846, Sydney: The Anti-Transportation Committee is formed to agitate for an end to the convict system.
23 December 1983, Sydney: Three members of Women For Survival are arrested while painting an anti-war slogan on the side of the UK warship the Invincible.
24 December 1941: After the government bans Christmas holidays under war provisions thousands of workers around the country resign their jobs on Xmas eve only to reapply for them in January.
27 December 1950, Darwin: More than 200 Aboriginal workers strike for a living wage.
28 December 1941: Musicals in Sydney and Melbourne are forced to carry on minus dancers and chorus singers due to strikes carried out by members of Actors Equity concerning poor pay and conditions.
January
1 January 1981, Australia: A total ban on the transportation of uranium and related mining equipment is placed by the Australian Railways Union.
2 January 1934, Adelaide: A 10-week "beer strike", or boycott of local hotels, in the Flinders Ranges' town of Quorn comes to an end after publicans agree to lower their prices.
3 January 1989, Perth: On this day in 1989 members of Perth's Aboriginal community, along with non-Aboriginal supporters, set up a protest camp at Gooninup. Noongar community members had been prevented from using this culturally significant site for more than a century and a half. Located next to Kings Park on the Swan River foreshore, the area had been used by the Swan Brewery company from 1879 to 1978 after which the factory had become derelict. Demanding the area be turned into a park, and having lobbied and taken legal action for more than a decade, community members were dismayed at the West Australian ALP's decision in 1988 to redevelop the site for buildings. The Aboriginal led protest camp would go on to majorly delay work via occupations, direct action, further legal challenges and union support in the form of work bans. To learn more about this campaign read an account by Nick Everett here.
6 January 1925, Sydney: ALP leaders lockout journalists at the Labor Daily for refusing to censor the word "scab".
8 January 1992, Ballina: In a protest against sewage dumping environmentalists launch the Big Poo to rival the local Big Prawn statue.
9 January 2009, Sydney: Aboriginal activists stage a march from Sydney to Canberra demanding an end to the Northern Territory Intervention.
11 January 1951, Sydney: 270 female process workers strike at 3 factories after their employers attempt to lower their wages to less than 90% of that paid to men.
14 January 1982, Melbourne: First Nations activists opposed to the building of an aluminium smelter at Portland by Alcoa disrupt a 200-metre race being held as part of an international athletics event sponsored by the company. Dashing onto the Olympic Park track the Land Rights activists unfurl a red, black and gold banner reading "Alcoa=Unemployment" before escaping down Punt Road. For more about the First Nations' activism and history visit First Nations Resources. 

20 January 1933, Melbourne: The economic depression of the 1930s saw thousands of Australians thrown out of their homes and into the streets. These actions, however, did not go unopposed. Across Australia, hundreds of pickets, occupations and protests were organised to disrupt and prevent evictions and auctions and demand support in the form of housing and better welfare payments. On this date in 1933, a Member of Victoria's Legislative Council Albert Zwar had his own home picketed by unemployed activists after he evicted a destitute family in Preston from a property which had been described as a "ramshackle hovel" lacking basic utilities. For more about housing activism and direct action during this period check out the Lock Out The Landlords pamphlet and history walk.   
22 January 1980, Melbourne: After years of trying to get Ansett airlines to take her on as a trainee pilot Deborah Wardley fights the company through the Equal Opportunity Commission and eventually the High Court before the company finally caves in, eventually allowing her to take her first commercial flight on this day in 1980.
23 January 2002, South Australia: Following concerted lobbying by anti-nuclear campaigners and Aboriginal communities Pangea Resources pulls out of plans to build a waste dump in Australia.
24 January 2001, Melbourne: Refugee supporters occupy the roof of the Maribyrnong Detention Centre.
30 January 1972, Melbourne: Aboriginal activists daub Land Rights slogans on Captain Cook's cottage tourist site.
February
1 February 2015, Melbourne: Refugee activists interrupt the Australian Open men's final and invade the court, calling for the closure of the Manus Island detention centre.

3 February 1979, Wagerup: Members of the West Australian Campaign to Save Native Forests occupied the site of a proposed smelter on Saturday, February 3rd 1979 in order to prevent the destruction of old-growth forests through aluminium mining. Having engaged in nonviolence training with visiting American Quakers the previous year, and held further workshops since, 16 people took part in the initial trespass action and occupation with another 300 rallying in support. 12 were arrested two days later, but the charges were later dismissed. With increased public interest emerging from this landmark event a second and larger occupation was held in May, which included the blockade pictured. More arrests ensued, but authorities lacked a legal basis to prosecute anyone. They soon responded by introducing new penalties for obstructing work carried out under agreement with the West Australian government which included fines of up to $5000 or 12 months imprisonment. Faced with this, activists shifted back to more conventional activities, but their action would later feed into non-violent approaches taken during the Franklin Dam blockade and elsewhere around Australia. For more information on Non Violent Direct Action visit- https://commonslibrary.org/topic/nonviolent-direct-action/
4 February 1939, NSW: After Indigenous activist Jack Patten is arrested and removed from Cumeragunja Mission as part of attempts to end agitation around poor living conditions, up to 200 residents walk off the station in protest, many never to return.
5 February 1982, Sydney: More than 1000 people protest a recent raid on a gay bar singing "We don't want to get molested, we don't want to get contested, we don't want to get arrested, we just want our rights" to the tune of 'We Wish You a Merry Xmas."
6 February 1902, WA: Drinkers in the town of Mulline in the Goldfields-Esperance region who have been boycotting local pubs for a month over exorbitant prices receive relief in the form of a barrel of beer sent by supporters in nearby Menzies.
7 February 1972, Sydney: Black Power activists begin a free breakfast service for Indigenous children in Newtown.
9 February 1990, Melbourne: Anti-apartheid activists picket BHP over its support for the South African regime.
10 February 1925, Adelaide: The Trades and Labor Council declares a boycott on IXL jam in support of 500 striking female factory hands.

12 February 1965, NSW: Indigenous activists and supporters from Student Action For Aborigines Organisation (SAFA) began a two week 'Freedom Ride' around NSW to protest against racial discrimination on Februaryruary 12th 1965. As part of their journey they carried out surveys of Aboriginal living conditions in rural towns and held protests against the exclusion of Aboriginal ex-servicemen from the Walgett Returned Services League and Aboriginal children from swimming pools in Kempsey and Moree. Publicity surrounding the journey, and the issues being highlighting, was ramped up after police and white locals confronted protesters in Moree and an unidentified driver rammed the bus outside Walgett. Aboriginal activist Charles Perkins and others involved in the trip would continue their involvement in anti-racist and land rights activism for decades to come. For more about this history of this event visit- https://commonslibrary.org/the-freedom-ride/
14 February 2003: 100 000s of people join peace rallies across the country opposing Australian involvement in the invasion of Iraq.

17 February 2015, NSW: Pro-choice advocates began 40 days of fun-filled counter-rallies on February 17 2015 against anti-abortionists who were harassing clinics and clients for the same length of time. At the end of the protest marathon, the wittiest signs and banners were honoured. Many of those involved went on to play a role in the successful campaign to decriminalize abortion in NSW in 2019.
18 February 1951, Newcastle: 330 female members of the Federated Iron Workers' Association begin a strike, eventually winning equal pay with men after 7 weeks.
22 February 1907, Fremantle: 40 prisoners protest the use of flogging as a punishment by refusing to perform any work.
25 February 1982, Canberra: Members of the Sheltered Workshops Employees Association and other disabled workers rally outside Parliament demanding improved wages and the right to earn as much as other pensioners.
26 February 1986, Tasmania: Anti-logging actions at Farmhouse Creek and the Lemonthyme see bulldozers stopped and a 16-day tree-sit begun.
27 February 1937, NSW: The owners of the North Wallarah mine near Port Macquarie give in within 24 hours to striking workers demands after the men occupy and barricade the pit and up to 250 women and children picket the company manager's home.
Text is Creative Commons
Photos are copyright protected
---
Topics:
Collection:
Tags:
---