By James Whelan
Be inspired!
These films are essential viewing for house-bound activists. Send us additional suggestions!


A Force More Powerful
A documentary series on one of the 20th century's most important and least-known stories: how nonviolent power overcame oppression and authoritarian rule. It includes six cases of movements, and each case is approximately 30 minutes long. (India, USA, South Africa, Denmark, Poland and Chile).
About and watch
Always was Always Will Be
In 1989 a dispute over the redevelopment of the Old Swan Brewery on the Sacred Grounds of the Waugul, Kings Park, Perth convulsed the politics of Western Australia. Its lessons are important for all who are concerned about Aboriginal rights and culture, the environment, the progressive role of Trade Unions, the integrity of the Labor Party and the social/spiritual activities of the Churches. Made as a campaign film, Always Was Always Will Be, is a visually rich account of this historically important struggle over a sacred site, giving an insight into the living culture and beliefs of urban Aboriginal people in Western Australia.
Amandla! A Revolution in Four-Part Harmony
A 2002 documentary film depicting the struggles of black South Africans against the injustices of Apartheid through the use of music. The film takes its name from the Zulu and Xhosa word amandla, which means power.
About | Watch
Bread and Roses
The plot deals with the struggle of poorly paid janitorial workers in Los Angeles and their fight for better working conditions and the right to unionize. It is based on the "Justice for Janitors" campaign of the Service Employees International Union (SEIU).
About | Watch
Cesar Chavez
A 2014 Mexican-American biographical film about the life of American labor leader Cesar Chavez, who cofounded the United Farm Workers.
About | Watch
Crip Camp
A groundbreaking summer camp galvanizes a group of teens with disabilities to help build a movement, forging a new path toward greater equality.
About | Watch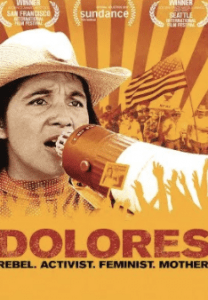 Dolores
In the 1950s, a working-class wife and mother of eleven children helps to establish a farmer's union, which later develops into a platform for feminism and gender equality. Dolores Huerta is among the most important, yet least known, activists in American history. An equal partner in co-founding the first farm workers unions with Cesar Chavez, her enormous contributions have gone largely unrecognized. Dolores tirelessly led the fight for racial and labor justice alongside Chavez, becoming one of the most defiant feminists of the twentieth century—and she continues the fight to this day, at 87. With intimate and unprecedented access to this intensely private mother to eleven, the film reveals the raw, personal stakes involved in committing one's life to social change. Documentary made in 2017.
About | Watch
Erin Brockovich
Erin, a single mother, becomes a legal assistant and comes across a case against Pacific Gas and Electric. When she discovers that the company is poisoning a city's water supply, she seeks justice.
About | Watch
Fire Talker: The life and times of Charlie Perkins
Fire Talker traces the life of Charlie Perkins from his humble beginnings to becoming one of the most influential Indigenous figures in Australia's history.
About | Watch

Fundamental: 5 films about fighting for gender justice and fundamental human rights
Watch 5 short documentaries about courageous leaders who are standing up for gender justice and writing new futures for themselves and their communities.
Gandhi
A critical masterpiece, GANDHI is an intriguing story about activism, politics, religious tolerance and freedom. But at the center of it all is an extraordinary man who fought for a nonviolent, peaceful existence, and set an entire nation free.
About | Watch [Google Play] | Watch [Youtube]
Harlan County, USA
A 1976 documentary film covering the "Brookside Strike", an effort of 180 coal miners and their wives against the Duke Power Company-owned Eastover Coal Company's Brookside Mine and Prep Plant in Harlan County, southeast Kentucky in 1973.
About | Trailer | Watch
How to survive a plague
A 2012 American documentary film about the early years of the AIDS epidemic, and the efforts of activist groups ACT UP and TAG.
About | Watch [Amazon] | Watch [Apple]

Living Black: The Freedom Rides
Revisit the historical journey made 50 years ago by a group of University students led by Aboriginal activist Charles Perkins, who set off on a bus ride around regional New South Wales to expose racism and prejudice in regional NSW. What they encountered along the way showed just how prevalent segregation and injustice existed in Australia. The trip would prove to be a turning point in the Australian civil rights movement.
About and Watch [SBS]

Matewan
The film dramatizes the events of the Battle of Matewan, a coal miners' strike in 1920 in Matewan, a small town in the hills of West Virginia.
About I Watch I Trailer
Milk
Harvey Milk, an American activist, faces several difficulties while fighting for gay rights and becomes California's first openly gay official to be elected to public office.
About I Watch [Google Play] I Watch [Youtube] I Watch [Amazon] I Trailer

Norma Rae
Norma, a married woman working in a factory, is displeased with the unhealthy working conditions. She decides to combine other workers with Reuben, a union organizer.
About I Watch

Pride
Based on a true story, the film depicts a group of lesbian and gay activists who raised money to help families affected by the British miners' strike in 1984, at the outset of what would become the Lesbians and Gays Support the Miners campaign.
About I Watch [Amazon] I Watch [YouTube] I Trailer

Rocking The Foundations
An outstanding historical account of the Green Bans first introduced by the New South Wales Builders Labourers Federation in the 1970s in response to community demand to preserve inner- city parkland and historic buildings.
About I Watch [Kanopy] I Watch [Vimeo] 

Romero
An inspirational true story, ROMERO captures the essence of one man's incredible courage, exploring the life of respected Archbishop Oscar Romero, who in 1980 made the ultimate sacrifice against social injustice and oppression in his country of El Salvador.
About I Watch [Google Play] I Watch [YouTube]

Selma
Selma is the story of Dr. Martin Luther King Jr.'s historic struggle to secure voting rights for African-Americans – a dangerous and terrifying campaign that culminated in the epic march from Selma to Montgomery, Alabama that galvanized American public opinion and persuaded President Johnson to introduce the Voting Rights Act in 1965.
About I Watch [Google Play] I Watch [YouTube]

Silkwood
The story of Karen Silkwood, a metallurgy worker at a plutonium processing plant who was purposefully contaminated, psychologically tortured and possibly murdered to prevent her from exposing blatant worker safety violations at the plant.
About I WatchI Trailer

The Milagro Beanfield Water
When a Chicano handyman from the Milagro Valley decides to irrigate his small beanfield by "borrowing" some water from a large and potentially destructive site, he unknowingly sets off a chain reaction that erupts into a humorous culture clash. The developers then try to stamp out the modest plantings, forcing the handyman's friends to team up with the spirited "rebel" to protect and preserve their way of life.
About I Watch [Google Play] I Watch [YouTube] I Watch [Amazon] I Trailer
Other lists
Inspired by these films? Start or join a movement
---
Topics:
---