A taste of some of the small actions and major events which challenged the state of Australian society and pointed to better ways forward during the month of December.  
Note: We roll each month's dates into our 'live' From Little Things Big Things Grow chronology which is continually being added to. We welcome your additions.
5 December 1972, Melbourne: After a long dispute with her union Joyce Day becomes Victoria's first female tram driver.
6 December 1980, Perth: Santa Claus and others are arrested at a demonstration defying Western Australia's 54-B anti-protest laws which make it an offence to.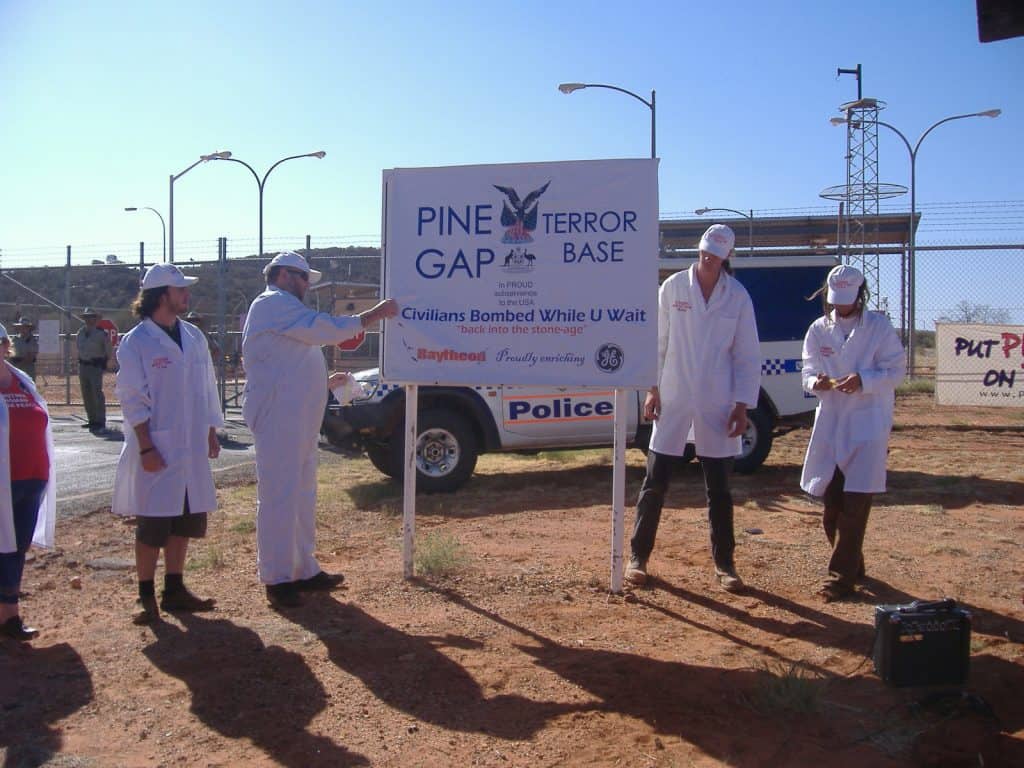 9 December 2005, Pine Gap: On Dec 9th 2005 four members of Christians Against All Terrorism were arrested after they entered the US run Pine Gap spy base to hang protest banners and carry out a citizen's inspection in regards to the installation's involvement in suspected terrorist activity. Despite receiving permission from the Traditional Owners of the land all were charged with "trespass" and "damaging government property" and served up to two weeks in jail after refusing to pay fines. Photo courtesy of pinegap6.ivejournal.com
11 December 1890, Sydney: An Aboriginal deputation from Maloga Mission visits the Premier demanding land and independence.
16 December, 1929, Rothbury: During picketing striking coal miner Norman Brown is shot dead by police.
19 December 2014, Sydney: After a refugee protests his handcuffing and forced removal, seven passengers aboard an Air China plane refuse to take their seats forcing Immigration officials to abandon the deportation process. Photo courtesy of Refugee Action Coalition Sydney.
20 December 1917: Australians reject Prime Minister Billy Hughes' conscription proposals for a second time.
22 December 1846, Sydney: The Anti-Transportation Committee is formed to agitate for an end to the convict system.
23 December 1983, Sydney: Three members of Women For Survival are arrested while painting an anti-war slogan on the side of the UK warship the Invincible.
24 December 1941: After the government bans Christmas holidays under war provisions thousands of workers around the country resign their jobs on Xmas eve only to reapply for them in January.
27 December 1950, Darwin: More than 200 Aboriginal workers strike for a living wage.
28 December 1941: Musicals in Sydney and Melbourne are forced to carry on minus dancers and chorus singers due to strikes carried out by members of Actors Equity concerning poor pay and conditions.
---
Topics:
Collection:
Tags:
---